English
English
Aims
At Parsonage Farm we intend:
For all children to become confident, resilient and independent readers, writers, speakers and listeners and to do the best that they can in English.
For the children to become motivated and enthusiastic in English and we encourage them to read and write for pleasure.
For children to develop the skills they need to read and write:

To be able to decode words, to encourage fluency and develop understanding of what they have read.
To be able to write for a variety of purposes and use grammar, punctuation and spelling rules in their writing.
To develop legible, neat handwriting with correctly-formed letters.

To promote reading and writing success through strong school and home partnerships.
To prepare the children for the next stage in their education by aiming for them to read and write at least at the level appropriate for their age.
For children to develop a love of English!
Progression of Skills
Our English curriculum is planned so that there is a clear progression of skills from Nursery to Year 2 but within each year group we also meet the individual needs of all children by extending or supporting their skill development regardless of their age.
Teaching and Learning
English encompasses speaking and listening, reading, writing, phonics, spelling and handwriting. Our English activities cover the EYFS Framework (in Nursery and Reception) and the National Curriculum for KS1 (in Years 1 and 2) but we design our English lessons so that they are purposeful and meaningful for the children in our school. English is taught in a variety of ways to make it fun, purposeful and engaging.
Speaking and Listening
Learning how to take turns in conversation, speak clearly with purpose and listen carefully to each other are a priority at Parsonage Farm and we have embedded their teaching and learning in all aspects of our pupils' school life.
Reading
At Parsonage Farm, children are taught to read through a variety of approaches, including one-to-one teaching, focused Guided Reading sessions and daily phonics lessons.
Children begin reading books from the Oxford Reading Tree scheme to learn to decode and read high frequency and tricky words. Phonics is at the heart of learning to read and the books are linked to the phonics being taught in class. When they are ready and have mastered the basics, the children read a range of different texts, such as Collins' Big Cat books, fiction and non-fiction, to broaden their experiences and to promote reading for pleasure!
Across the school, children take reading books home regularly and are also given the opportunity to borrow books from our library.
Writing
Our children are given opportunities to write every day, either through focused English lessons, phonics and handwriting sessions, or child-initiated, independent activities. Writing opportunities are embedded in all subjects across the curriculum and we strive for the children to develop positive attitudes to writing and to increase their stamina as they progress through the school. At Parsonage Farm we ensure that children write for different purposes and experience writing different genres and that they are aware of their audience – why are they writing and who is it for? Children are taught the value of planning and rehearsing their writing, editing and evaluating their work.
Phonics
At Parsonage Farm we understand how learning Phonics is integral to becoming a successful reader. We follow the Twinkl Phonics programme alongside the 2014 National Curriculum to ensure that children are learning Phonics in a systematic, rigorous way. We use 'Cued Articulation' to support the children's learning of each individual sound.
Phonics is taught daily across the school in a consistent and engaging manner to meet the needs of our children. It is assessed regularly so that children's progress is monitored, and they are supported in the most appropriate way.
For more information please see the document attached below.
Handwriting
We strive to give our children the best possible start in developing their handwriting and follow the Early Years and National Curriculum Programmes of Study.
We have our own handwriting style and have identified a clear progression of skills: from the physical preparation for handwriting and securing the correct letter formation to beginning to join and building up speed and stamina. Across the school we ensure that the children have opportunities to develop their fine and gross motor skills, both of which are essential for developing good handwriting.
Parsonage Farm handwriting style: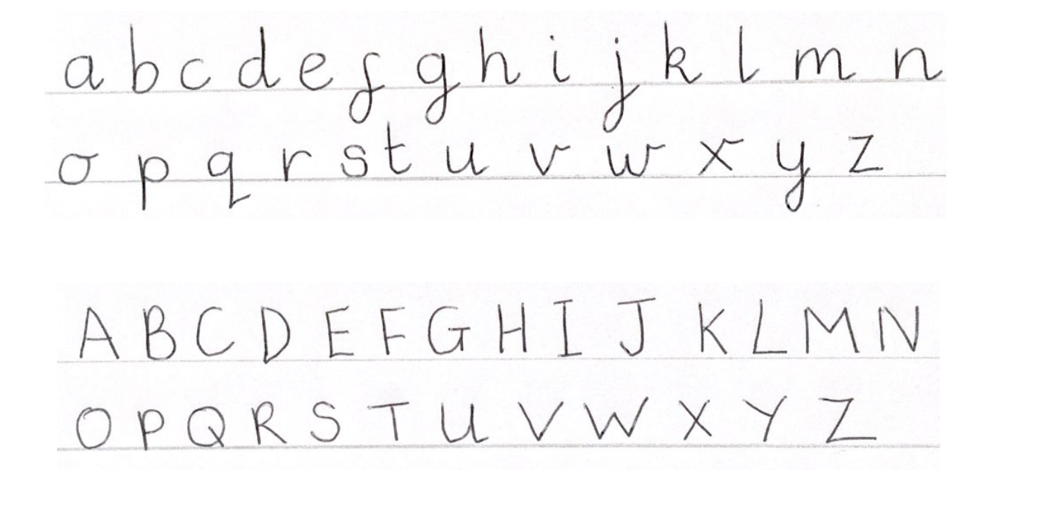 Parsonage Farm number formation style:

Spelling
At Parsonage Farm, we don't believe that spelling tests are beneficial – spellings that are learned at home for a test are not always embedded in the children's independent writing at school! Instead, the children are taught specific spellings at school and we have many visual reminders and resources to help them learn, and from early on the children are expected to check their spellings of key words. We teach the children to spell using phonics and have grouped our spellings by spelling pattern (e.g. he, we, me, she, be / about, out, house) to help them make connections when spelling the words. They learn to spell the common exception words ('tricky' words) for their year group.
Enrichment Activities
At Parsonage Farm the children are given many additional opportunities to enrich their English skills. These include:
Billy Bear's Book Bag
Visitors e.g. story tellers to make topics come alive!
Cross-curricular reading and writing opportunities, e.g. using computers and iPads, developing fine and gross motor control in PE activities.